Skip here and go straight to the TUGU KERIS pic if you don't want to read my personal thoughts etc.
Was chit-chatting with my friend the other day when he swears that he wants to travel around Peninsular Malaysia to sample all the famous foods. This in turn sparked an old flame of mine, I've always wanted to try all the delicious foods and all sorts of liquor, but I've always been dragged down by some petty reasons.
Anyways, now that I have food in mind, I've thought about doing some research on places that I would like to go, whether its for the food, booze, recreation etc. I will title these kind of post as On the hunt, and it might drag to a few posts, and the initial posts will usually be what I found online while perhaps, the last few post might be of what I've experienced. One more thing, things might get 18sx at times, but I will notify it early on so it won't disturb you too much
(in the end, I'm just as horny as most guys are out there and I ain't hiding it)
On to Klang, one of the things that I've been taking for granted is the TUGU KERIS, which is located right after the Sungai Rasau Toll on Federal Highway towards Klang. I was studying in Taman Rashna during my primary years and this momument was just another decoration to me. In case if you are wondering how does a Keris looks like, look below.
Remember the friend that triggered me to write 'on the hunt', well he now works in Klang and I've visited him a few times. Always, before/after visiting him, I like to stop by and look at i-City. Maybe because I've just broke-up not long, but I get this weird feeling when I'm looking at all the lights, like I'm really able to relax and have no mask on. Anyways, I believe in future, when I'm troubled or anything, this will be the place where I will come to, but not enjoying it up close, but from a little distance.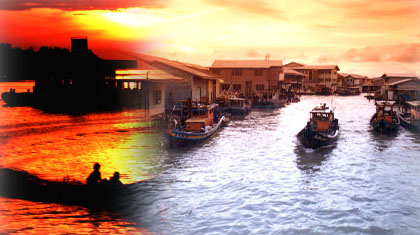 Next on the menu we have PULAU KETAM. Its a small stop that I only visited when I was really young. From what I could recall, this little pit stop was actually meant for smuggling which it later grew into a legal town. Somehow this made me associate it with Pirates of the Carribean, a pirates' port they called TORTUGA. Talking about Pulau Ketam, there was a famous incident not too long ago, where dozens of stray dogs got stranded on the little islands/mangroves around Pulau Ketam, a really sad story that is.
Another good attraction will be LITTLE INDIA, I'm not sure about the history or significance on this place, but all I know is that its a place to visit during the Festival of Light (Deepavali). If you are worrying on the security, I believe it should be quite safe especially since the Police HQ is just a stone throw away. Ultimately, respect others and others will respect you.

To Be Continued